Check Out Our Health Assessment Packages to Save
OR INDIVIDUAL SERVICE PRICE LIST
Yes, I'd like to Become a Nature's Sunshine Member & Save!
Simply Choose Your Country Now... Canada, UK & Europe
Your Eyes are The Window to Genetic & Preventative Care of Your Health
For a full IRIDOLOGY Assessment, an eye photo is taken and displayed on the computer screen. An analysis is then prepared within a few days. An appointment scheduled to discuss the individual's health concerns. The picture can then be used to see the changes in the iris as the body systems are being cleared of toxins and/or congestion.
By using Nutritional supplements, Dietary and Lifestyle changes a STRENGTHENING and PREVENTIVE health care program can be designed to meet the individual's needs

The iris is connected to every organ in the body by way of the BRAIN and the Nervous System. In the embryo, the eye starts out as part of the brain. It then slowly separates, yet remains connected to the brain by way of the optic nerve and the optic thalama, the sympathetic and the parasympathetic nervous system. Hence the iris is an extension of the brain with many nerve endings. The nerve cells within the iris record the vibratory rate of the cells in other parts of the body and respond to changes in body tissue.

The markings and colours of the iris change as changes in the body tissue occur.
IRIDOLOGY reveals your constitutional strength and weaknesses, imbalances of the body, your nutritional needs as well as locating areas of toxic accumulation. Iris analysis shows changes in tissue long before clinical signs develop.
IRIDOLOGY is a non-invasive technique to assist in finding out what is going on inside your body and can help identify the underlying cause of various symptoms.
IRIDOLOGY does NOT diagnose disease or a medical condition and should never be used to replace a medical diagnosis.
IRIDOLOGY is our most used tool in helping to direct people on the proper nutritional path.
YOU ARE ONLY AS STRONG AS YOUR WEAKEST LINK!!
(Printable Info On Iridology) Video: Is Iridology Legit?
---
HAIR MINERAL ANALYSIS
Detecting Toxins and Deficiencies
Hair mineral analysis has its main value in determining excessive toxic heavy metals, particularly lead, mercury, cadmium, arsenic, aluminum and nickel. This fact is supported by voluminous amounts of scientific literature as well as by the US Environment Protection Agency. Excesses or deficiencies of nutritional and toxic materials correlate well with many important health conditions. For example, low chromium has been seen in diabetes or hypoglycemia. Low levels of magnesium and selenium can be seen in heart disease, while high levels of lead and mercury can cause headaches, fatigue or forgetfulness. Hair will show accumulation of toxins long before they appear high on conventional blood and urine tests for most toxic heavy metals.
Hair mineral analysis is valuable in cases of behavioral problems because there are distinct mineral patterns in such individuals. Since hair is a projection of a body cell that closely represents the mineral content of most other cells in the body, it is the next best thing to doing a biopsy.
Hair mineral levels do not reflect the mineral levels in the blood. Rather, they represent intracellular mineral levels that could alert a person to early signs of potential health problems.
Hair can be assessed for several key nutritional minerals, especially calcium, magnesium, copper, zinc, manganese, chromium, selenium, lithium, vanadium, boron, germanium and at least a dozen others.
The clinical significance of hair levels of nutritional minerals is controversial and not diagnostic of any specific disease.
---
CARDIO VASCULAR TESTING
Cost is $40.00 First Time & $30.00 for Re-Assessment
More than 1 million North Americans have heart attacks each year. For 50% of them, death is the first symptom.
"Changes in function and structure of the arterial wall precede the development of obstructive coronary artery disease and are an early indication of the hypersensitive disease process"
Smart Pulse Wave Analysis is an information tool only. A complete diagnosis must be given by a qualified health professional.
The biological age of your arteries is considered to be directly proportional to their elasticity. The walls of your arteries are muscular. When the heart send blood into your arteries they expand and then elastically contract to squeeze the blood back to the heart. This results in a wave form which can be measured.
Smart Pulse is non invasive. A device placed over the end of your finger counts the red blood cells entering and leaving the small arteries beneath your finger nail. The wave form recorded is an accurate indicator of the overall stiffness or hardening of your arteries.
NEW!!! Reverse Plaque and Eliminate Blood Clots..
There are over 100,000 medically published clinical studies attesting to the fact that arginine will help lower blood pressure, lower cholesterol and triglycerides, improve diabetes, improve sexual function, reduce blood clots and strokes, improve congestive heart failure, improve wound healing, improve liver and kidney function, improve memory and cognitive functions, increase human growth hormone (HGH), and much more.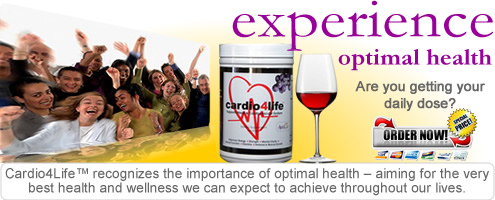 For Your Convenience Cardioforlife is NOW Available at Anna Marie's Niagara Falls Office!
Call 905-354-0228 / 1-866-354-0228 to arrange to pick yours up today!
Tell Us How You Like Our Recipe Section
My Home My Options My Nutrients My Best 9 My Children My Pets My Contact My Recipes